I have decided to sell prints of my artwork, Egyptian Eye and Rainbow of Emotions, to help me and my family go to the 18p- conference which is held each July. The 18p- conference means I get to see my 18p- friends, traveling, getting a lot of exercise, finding new restaurants, and exploring the city. I want to help pay for our trip. It's in a different location every year. You can learn more about chromosome 18 differences by going here.
Here's the Egyptian Eye: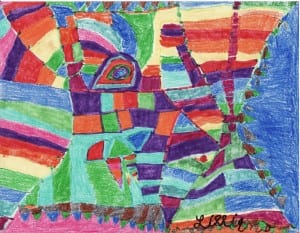 Here's Rainbow of Emotions: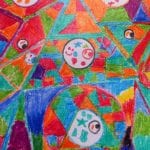 (This is a photo of the drawing. It will be scanned for your print.)
Please note that I came up with the idea and Camilla helped me by scanning the Egyptian Eye and Rainbow of Emotions.
We will leave the price you pay up to YOU! To cover the cost of the 8 X 10 print and mailing, we suggest at least a love offering of $20 (to cover the cost of printing and shipping). Ultimately, it's up to YOU!!
Payment is through Camilla's PayPal. Go here. Simply note which drawing you would like to have. Thank you! Every year around this time, I like to create something to fundraise and help my family attend the annual
I like to create items to fundraise and help my family attend the annual Chromosome 18p- conference. This year, 2017, I am creating handmade notebooks which can be customized. Here's a poem to go with the notebook:
Notebook

N is for Nature

O is for Outstanding

T is for Terrific

E is for Eager Writing

B is for Book

O is for Outrageous

O is for Ocean

K is for Kindness
The price offering is at least $25 which includes shipping. You can use this PayPal link or you can mail a check to my mother, Camilla Downs, P.O. 19812, Reno, NV 89511
https://www.paypal.me/camilladowns
Subscribe to Lillian Darnell by Email